On October 2, 2022, Parish Minister Rev. Erica Richmond preached a sermon titled "Knowing Our Own Backyard," in which she shared her research into the history of what she referred to as First Parish's "entanglement with slavery."  She told us that several of the 16 founding members of First Parish—those who purchased pews to raise the money to establish First Parish in 1739—were enslavers.
Rev. Erica found the names of some of the enslaved people connected to First Parish in the church records kept by Samuel Cooke, the first minister. Records show that Kate, baptized by Rev. Cooke in 1754, was a "gift" to Jason Russell. Rose, who was enslaved by innkeeper William Cutler, was baptized by 1754. She married Punch, who was enslaved by Samuel Brooks. Rose and Punch's daughter Venus was baptized in 1759; she was also enslaved by William Cutler, as was Dinah, a person unrelated to Punch or Rose, and also listed in Rev. Cooke's baptismal records. Flora Reed died at age 60 in 1791, eight years after the institution of slavery was outlawed in Massachusetts in 1783. We don't know if Flora was freed by the Reeds at that time, or what happened to her six children.
Rev. Erica followed up with a four-part workshop entitled "Exploring Our Own Backyard." Roughly 30 of us joined to learn more about Rev. Erica's research and to reflect on the implications of what we learned. We visited the Jason Russell house and walked through the rooms where Kate worked. We wondered if Kate might have slept on a floor by the fire in the kitchen, in the hall between the upstairs bedrooms, or in the chilly attic up above.
We viewed the documentary Traces of the Trade: A Story from the Deep North, in which members of the DeWolfe family, originally from Rhode Island, explore their connection to the largest slave-trading family in U.S. history. We visited Arlington's Old Burying Ground that, according to Rev. Samuel Abbott Smith, was "used for the burial-place of the slaves." It was during a small-group discussion session that two participants, Tom Estabrook and Amy Anderson, confided that they each had enslaving ancestors. Tom and Amy shared their family stories during the February 5 worship service, reflecting on how to move beyond shame to action.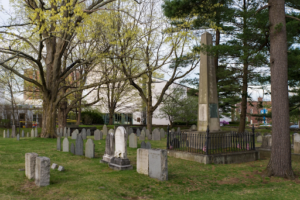 Many other workshop participants have committed to asking of ourselves and our congregation, What are we called to do with the fact that some of our congregational founders enslaved human beings? Now under the leadership of First Parish's Racial Justice Coordinating Committee (RJCC), our group has adopted the name Reckoning & Repair. We've established subcommittees for continued learning, discussing, listening, and soul searching in the richness of our community. We are eager to engage with the congregation as we ask, What does it mean to value the lives and the untold stories of Kate, Rose, Punch, Venus, Dinah, Flora, and other enslaved persons whose names we do not know? Given that their unpaid, forced labor helped to enrich founding members of our congregation, what are we called to do to make repair?
Wrestling with Reckoning and Repair
In the October 2, 2022 sermon, Rev. Erica asked us, "What truth are we favoring?" and "What might First Parish do to acknowledge this history, to name our own entanglement with systems of whiteness, slavery, and violence?"
In the months that followed, these questions led only to more questions, so in the spirit of humble yet persistent seeking, our Racial Justice Coordinating Committee created a 20-volunteer working group called the Reckoning & Repair.   This group, determined to educate the congregation about our history, has led a number of programs:
Three showings of Traces of the Trade: A Story of the Deep North (a film about a RI family that discovered their ancestors ran the largest slave trade in US history)
Three listening sessions with the congregation to discuss our true history

A facilitated three-session collective reading of

From Here to Equality

by Kirsten Mullen and William Darity, Jr.

A facilitated two-session collective reading of

My Grandmother's Hands: Racialized Trauma and the Pathway to Mending Our Hearts and Bodies

by Resmaa Menakem. 

Ongoing review of an Affirmation which acknowledges our history and calls for reparations

Working with Arlington Historical Society and the Town of Arlington's Diversity, Equity, and Inclusion office on a Juneteenth celebration to commemorate unmarked graves of individuals who were enslaved in the Old Burying Grounds adjacent to First Parish

Annual July 5th reading of Frederick Douglass' What, to the Slave, is the Fourth of July?
Additional work of Reckoning & Repair continues with upcoming events:
A facilitated three-session collective reading of All That She Carried; The Journey of Ashley's Sack, A Black Family Keepsake by Tiya Miles scheduled for Oct 2023
Minster-led reading and workshop on Money as Medicine from the Decolonizing Wealth Project by indigenous author Edgar Villanueva in Dec 2023
A four-part workshop on the history of racism and Unitarian Universalism in Jan 2024
Minister-led collective reading of On Repentance and Repair: Making Amends in an Unapologetic World by Rabbi Danya Ruttenberg in Jan – Feb 2024