Harvest Moon Fair 2023
November 18 @ 10:00 am

-

3:00 pm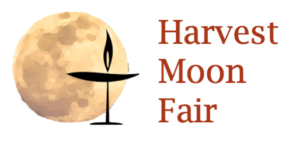 Our annual fair sale is back on for 2023!
If you have any questions that are not answered below, send a note to fair@firstparish.info
Donations can be dropped off in the vestry starting after church on Sunday, November 12.  See below for guidelines on what sells!
If you're donating a working PC or Mac (less than 10 years old), we need a bit more time to prepare these for sale. Please contact Greg (rar@firstparish.info) as soon as possible to arrange a drop off or pickup of your working computer.
BOOTHS
Attic Treasures. Our largest booth, Attic Treasures is everything that doesn't fit somewhere else.  Lots of kitchen wares, including small appliances, and a solid mass of other bargains.
Toyland.  Games and toys like puzzles, Legos, and squirt guns.  In past, has featured finds like American Girl dolls and indie board games.
Jewelry Box. Rings, bracelets, earrings, brooches, scarves, and handbags can all be found in the Jewelry box.  Everything from fun costume jewelry for dress up time at day care to sterling silver and 14K gold.  Come early because the dealers get there fast.
Reboots and Rewinds (electronics).  Computers, monitors, stereos, speakers, headphones, keyboards and mice.  Whether it's a Chromebook for school or an 80W amplifier, you can find it here for less than anywhere else.
Book Nook.  Tables and tables of books that will fuel your book group for years to come.
The Greenery.  A great selection of indoor and hardy outdoor plants, pots, and gardening accessories.
The Blue Table.  An unusual tradition started many years ago that draws blue plates, cups, vases, and more from our Attic Treasures.  By far the prettiest table in the sanctuary.
The Buttery.  Baked goods are always a hit.  Wrapped for individual sale with a list of ingredients.
Cafe.  Our pop-up cafe always puts together a spectacular meal.  Never the same cuisine twice, we've served spicy-sweet Caribbean,  Vietnamese Bahn Mi, and New Orleans muffalettas.
Raffle.  Year after year our church community pulls together, by hook or by crook (see what I did there), a beautiful quilt that is raffled on Saturday.
Donations
You can drop off in the Vestry starting after church November 12.  Items can be dropped off any time that week while the church is open.
👍 Books.  I honestly don't know what folks are doing with these things, but they buy a lot of them.  There are all kinds of things to read, like signs and menus, and there are plenty of other heavy things around, but for some reason lots of books come in and lots of books go out.
🤮CDs / DVDs / and associated furniture.  As a UU, I don't want to use the word "hate" for anything.  Even things like the speed with which black sharpies disappear from the supply room or how the configuration of the fan room results in just enough head trauma to make me forget what happened the last time.  But CDs, DVDs, and their various support elements like racks, sleeves, etc. are something that raises very negative feels.  It seems like someone should want them, but no one does.
👍Kitchen wares.  Pots, pans, spatulas, baking dishes, and kitchen appliances all tend to do well.  Again, not sure what everyone does with these when a bowl of Total has 100% of the vitamins you need for a day, but they are definitely popular.  Items should be intact and tidied up; there is no nostalgic value to toast bits from last year.
🤮Old dish sets. It's kind of a tragedy, but year after year, beautiful old dish sets from mom's / grandma's attic end up in the Goodwill box after the Fair.  Caveat:  Seems like it is mostly the style; plain white or fiesta-style sets can work
👍 Jewelry.  Jewelry has been a key part of the Fair revenue every year and it would be great to keep that going.  The core group that manages this booth has been doing so for ~10 years and they've gotten pretty good at pricing.  While even costume jewelry will sell, modest sterling silver and gold pieces are a great help.  And the chair of this booth is smart, beautiful, hard working, and a joy to live with.
Note that the Jewelry booth will also take handbags, purses, scarves, and jewelry boxes.
👍 Electronics. Computers, monitors, laptops, tablets, and audio equipment can be great for the cause.  And don't forget mice, keyboards, and other accessories.  Setup a home office that you don't need anymore?  Send it to the Fair.
Note that computers in particular can take a while to get setup for the Fair, so bring them in as early as possible (contact Greg Ruccio directly,  gregruccio@yahoo.com)
🤮Really Old Electronics.  The only reason I can think of to donate a VHS player is if you have that tape from The Ring and you watched it and are trying to get someone to watch the copy that you made so that Samara will come through their TV instead of yours.  And that's not really something we want to encourage anyway.  So, no VHS players.  Any monitors under 20″ are also kinda questionable.  Computers in general should be no more than 10 years old.
👍 Baked goods.  Every year the Buttery sells every donation that it gets.  If you've got a hankering to bake, bring it on down the night before (Nov 17) or the day of.  Items should be individually wrapped and a list of ingredients provided.
Volunteering
There is always lots to do for the Harvest Moon Fair.  Signup at online, at coffee hour, or send a note to fair@firstparish.info
Pre-fair sorting and pricing
Thursday and Friday before the Fair are big days for sorting and pricing.  The volumes of books, toys, and other items is large and many hands make fun, light work.
Sanctuary Setup and Take down
Our lovely sanctuary must be transformed on Thursday into a grand marketplace and then snapped back into its old self on Saturday evening.  We need a hearty crew to make this happen.
Cooking and serving for the cafe
Meal preparation for the cafe typically starts on the Friday before and runs through the most of Saturday.  We usually have one or two main chefs but need lots of sous chefs and, of course, there is lots of clean up to do.
Music
Part of the cafe is setup each year for bands and performers to play during service.  If you have a musical inclination, let us know.
Fair day booths
Lots of time slots are available for sales in each of the booths above.  The common slots are:
9:45-11:45am
11:45am-1:45pm
1:45pm-3:45pm
where first shift involves a bit of setup and last shift involves some breakdown.
Booth chairs may have a different arrangement.
Baking
Every year, all baked goods donated to The Buttery are sold.  Sign up to bake cookies, brownies, cakes or pies.  Just remember that each item must be wrapped for individual sale.  A slice of cake, 3-4 cookies, or a big soft brownie are typical, but you can always check with the booth chair.